$198,000
May Mission Month 2021 Target
At GBC, we believe the mission of God is to restore and renew all things in Jesus Christ. Through May Mission Month (MMM), the GBC community has raised over $3M since 2002 for a diverse range of projects & organisations. Our heart is to live into our values of being On-Purpose, Others-Focused, and Big-Hearted & to join where God's already at work.
To donate choose an amount below or put in a custom amount. Then select where you would like your funds to go with the drop down menu labled "To:"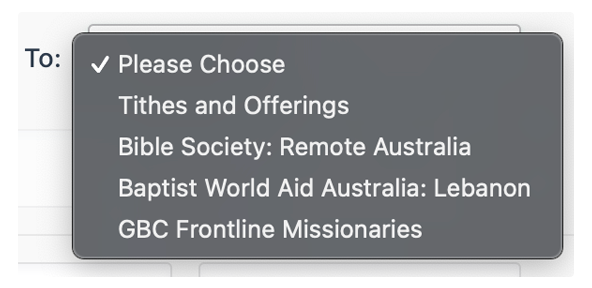 *Due to the COVID-19 restrictions, we are unable to receive or process cash donations. Donate online via credit or debit card.
**All receipting for tax-deductible donations will be sent electronically via email to your nominated email address by mid-July 2021 direct from Bible Society Australia and or Baptist World Aid Australia. You may need to check your 'Junk Mail' or 'Spam Folder' as it may be a new email address to you.
We thank you for Partnering with us to see lives changed by Jesus!
Donations Close on the 6th of June.
Give
$25.00
Select what project you would like your funds to go toward.
Give
$50.00
Select what project you would like your funds to go toward.
Give
$100.00
Select what project you would like your funds to go toward.
Custom
Click to enter a custom amount
Direct Debit, Cheques or Cash Donations
For electronic transfer, cheques or cash donations please fill in the form linked below and return this form.
Please RETURN YOUR COMPLETED FORM via email to: beryl.davenport@gymeabaptist.org.au Or via post to Gymea Baptist Church: 2-4 Tea Gardens Avenue, Kirrawee, NSW, 2232.
If you have any questions or need assistance: Call our GBC Office (02) 9521 4611 or email: beryl.davenport@gymeabaptist.org.au
MMM 2021 EFT Form
Bible Society: Remote Australia
Target: $75,000 (Tax-deductible)
The Bible Society seeks to provide access to the Bible for all people, in a language and format they can understand. Over 3 years, we are partnering to create oral bible translations, of the book of Luke, in four aboriginal languages spoken in the Kimberly region. This is the first oral bible translation project for an indigenous language in Australia. it will also provide the online platforms & listening devices for accessible engagement. To ensure the ongoing translation of the Bible into indigenous languages, we're supporting the Diploma of Bible Translation at Nungalinya College in Darwin. This 3-year government accredited course is training up the next generation of translators to ensure the future of their language & continued translation work.
Watch the Bible Society update video