 Welcome to the Discipleship Cycle Pilot!
What's a Discipleship Cycle?
We believe that following Jesus occurs every day, not just during a Sunday service. To make this more of a reality within our daily rhythms, we are launching a pilot for term two and three of 2021 in our PM services. This Discipleship Cycle is a fortnightly rotation which begins with setting a foundation for our discipleship through teaching from the word as we gather together as one body. Building on what we have learnt, the following week will focus on the formation of spiritual practices that help us live out our discipleship in our everyday life.
To be a disciple takes time and practice, learning from God and from each other. This cycle is one way in which we can empower and equip each other to take our next faith step towards following Jesus. Needless to say, our Sunday evening gatherings will look different but it's all apart of the journey.
Discipleship Resources
What should I expect?
Each Discipleship Cycle begins with Foundation Sunday. This is a time for sung worship and Bible teaching, as we explore God's call for us. This will reflect what church usually looks like but is only the beginning, as it sets the foundation for what we build upon throughout the week.
The second week is Formation Sunday. This gathering will start with an expression of worship before breaking off into smaller groups facilitated by a member of our leadership team. We'll be exploring and experiencing how to apply God's word within our lives and world today.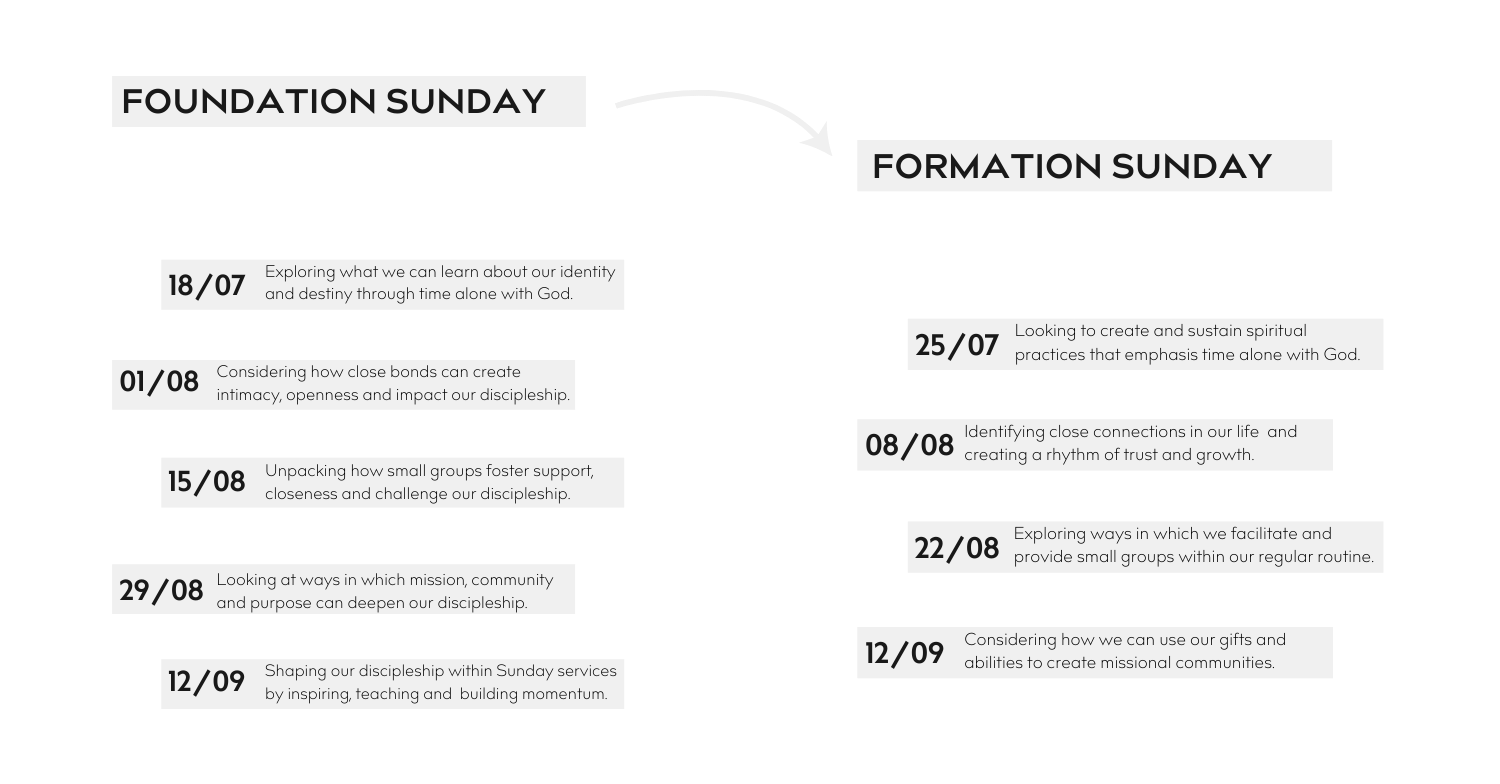 How do I stay up to date on what is happening?
Weekly updates will be released throughout the pilot, with details of what to expect and how to get involved. Head to gymeabaptist.org.au or follow GBC on instagram @gymeabaptist to stay up to date. Every Sunday gathering will start at 6PM, with coffee available from 5PM. All Formation Sundays will finish with dinner at GBC at 7PM. $5.
Want more information on the Discipleship Cycle?
Send us a message and we can help you out.
---